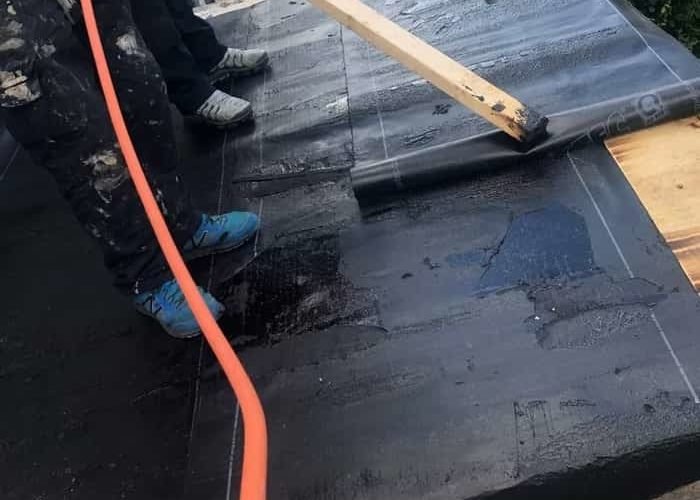 Looking to add a new flat roof, repair or replace flat roofs in Dublin?
Home Improvements Dublin recently completed a new flat roof project in Malahide, Dublin. We used new mineral felt to complement the beautiful home and to keep the original look and feel of the home and surrounding area.
Roofing felts are usually a 'paper' or fiber material impregnated in bitumen. As gravel cannot protect tarpaper surfaces where they rise vertically from the roof such as on parapet walls or upstands, the felts are usually coated with bitumen and protected by sheet metal flashings.
Any sheet of material used to cover a flat or low-pitched roof is usually known as a membrane and the primary purpose of these membranes is to waterproof the roof area. Materials that cover flat roofs typically allow the water to run off from a slight inclination or camber into a gutter system.
A main reason for failure of these traditional roofs is ignorance or lack of maintenance where people or events cause the gravel to be moved or removed from the roof membrane, commonly called a built-up roof, thus exposing it to weather and sun. Cracking and blistering occurs and eventually water gets in.
One problem with maintaining flat roofs is that if water does penetrate the barrier covering (be it traditional or a modern membrane), it can travel a long way before causing visible damage or leaking into a building where it can be seen. Thus, it is not easy to find the source of the leak in order to repair it. Once underlying roof decking is soaked, it often sags, creating more room for water to accumulate and further worsening the problem. Choose Home Improvements Dublin for all your Flat Roof Repair and Installation needs, as we guarantee only the highest quality of materials and workmanship.
Got an upcoming roofing project in Dublin? Be sure to give Home Improvements Dublin a call to provide you with Free consultation, Free Inspection, and Quality workmanship in and around Dublin and Co. Louth. We're your trusted dublin roofers and landscapers.
Contact Us Now on: 0877715068