Landscape Gardener – Best Landscapers Dublin
Home Improvements Dublin is the ideal choice for all types of landscaping design and construction in and around Dublin. We thrive on great customer service and beautiful landscaping works.
NEW CUSTOMER SPECIAL - UP TO 10% OFF
We offer new customers 10% off on all landscaping work. Contact us to claim your discount
For over 20 years, we've been providing professional, fast and reliable roofing installation, repair and replacement in Dublin. Below are some of our recent testimonials.


Came home after a long weekend away to water coming through the bedroom ceiling. I called Terry first thing the next morning to take a look and he was out within the hour. Two hours later and he had patched up the chimney flashing. All done for a very reasonable price too. One very satisfied customer here. Don't hesitate and call them
Melissa Mcdonagh


Great value, great service!! Fixed my roof on extremely short notice over the weekend. Will have them back to have some other work carried out in the new year.
Joe Fitzgerald


I've been incredibly happy with Home improvements Dublin. They repaired my roof quickly and efficiently. The cost was reasonable but most important they came out and fixed it the same day which was fantastic as it really got that weight off my mind. Highly recommended.
John G.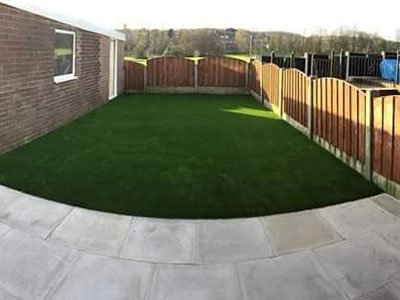 Professional landscapers serving Dublin and surrounding areas. Landscaping refers to any activity that modifies the visible features of an area of land, including: living elements, such as flora or fauna; or what is commonly called gardening, the art and craft of growing plants with a goal of creating a beauty within the landscape.
In landscaping, two elements come into play.  Hardscaping and softscaping. Hardscaping is the use of decking, paving, bricks and stones to make up the basic elements in the garden. The second aspect is the softscaping which refers to the grass, plants, trees, flowerpots as well as soil preparation.
Home Improvements Dublin offers top-notch affordable landscaping services in and around Dublin. We're experts who get the job done right the first time. If you are searching for landscaping services in Dublin, you need to ensure you look for a professional and trustworthy landscaping company that can put together the garden you've been dreaming of. Landscaping services that offer more than just a lawn maintenance and some flower beds.
You want landscaping contractors that can plan out a beautiful area for entertaining your guests & friends, the children to have some fun, or a fantastic entertainment area with a place to cook, eat, sit and more.  Nature is a natural stress reliever! If you decide to use our services, we leave your home looking beautiful and tidy.
We are the Dublin landscapers that can plan out, design and help you achieve your dreams of a beautiful garden or relaxation spot and more within your home or commercial area fast and affordably.
How about a garden at work where your staff can have lunch or have coffee? Commercial landscaping can add that element of peace to your business. It also improves the general impression of your offices as well as giving staff a place to relax and cool off in the middle of the day from work and office tension and stress. A beautifully landscaped garden can add value to your home and your business.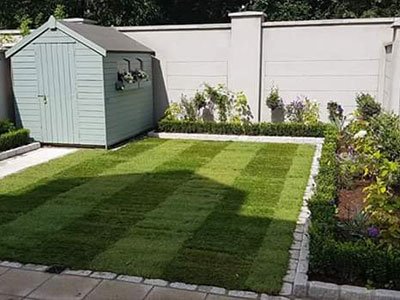 As professional and trustworthy Landscape gardeners in Dublin, we offer real grass (turf) or artificial grass and can plant 1 tree or flowerbed or cover your yard with them. We can also help build a shed or repair the existing shed in your garden so that it does not become an eyesore. Dublin landscaping contractors such as Home Improvements Dublin can offer repair of for existing fencing or install a new one.
Brick or wood or anything in between, your barriers will look fantastic. A deck is a wonderful addition to an outdoor area. We can help install composite decking or decking made from soft or hardwoods, depending on your preference. Home Improvements Dublin can also offer repairs to existing decking to make them look wonderful again. How about some amazing paving? Create a walkway through your garden or surround your house with some paving stones or resin gravel surfacing. Choose a lovely patio layout to add some flair to your outdoor areas.
All landscape gardeners perform a wide variety of landscaping services, such as:
Lawn laying – no matter if you need real turf or artificial grass
Fence installation and repair – wooden or brick – they can install or repair it for you.
Decking installation and repair – we can install softwood, hardwood and composite decking. You can benefit not only from the various materials we work with, but from design ideas, too.
Planting – would it be a single plant that you want for your garden, or an annual planting scheme, we will give you a hand.
Paving – get a newly laid patio or driveway. All landscapers are experienced in laying various types of paving stones and patio designs.
Shed installation and repair – we offer assembly services for store-bought sheds, as well as building new sheds from scratch. We can repair all shed parts, too.
Resin bound and resin bonded surfaces – we can do both types of resin gravel surfacing, depending on your needs.
 When it comes to commercial landscaping you can look at creating little rest areas with trees, paved areas, and benches where people can have lunch and relax. Improve the environment by encouraging natural plants and trees to create homes for birds and feed the bees. Talk to Home Improvements Dublin for a comprehensive plan for your business that not only helps keep your employees balanced but helps the environment as well! No matter what the outdoor space looks like right now, we can help you create a beautiful space for everyone.
– We offer fast, reliable, and affordable same day landscaping services in Dublin to both residential and commercial clients. Our landscape contractors use only the highest quality of materials to ensure your property looks amazing and to avoid any damages.
– As one of the best local landscaping companies in Dublin, we're highly-reviewed and offer free estimates to ensure you know the costs of our landscaping services before we even begin.
– As licensed and certified landscape professionals, we offer trusted landscaping, garden and lawn care solutions, gardening services such as lawn mowing service, contemporary home garden landscape design, garden maintenance. Contact us today for a free quote. Our recommended landscape gardening company is insured and bonded. Feel free to also ask about our financing options (we can also work with your insurance company to get the job done right the first time).
– Our emergency landscaping experts are always quick to reply your calls and fix any damage that might have occurred, no matter how large or small the landscapes. Feel free to check out some of our reviews to know why we're among the top preferred landscaping companies.
– Contact a landscaping contractor or company that has your best interest in mind. When searching for Professional landscaping services near me, be sure to give Home Improvements Dublin a call, as our landscaping contractors are always ready to handle any landscaping work that might come their way in the Dublin Area.
Our Landscaping Services Include:
Paving and stone work
Tiling, steps and drains
Planting
Decking and composite decking
Fencing and Cladding
Irrigation
Lighting
Real and Artificial Lawns
Real and Artificial Green Walls
Outdoor Kitchens
Outdoor Fireplaces
Greenbelt & Wetland Recovery
Control of invasive species
Erosion control
Wetland buffer design & installation
Seasonal Color Programs
Landscape renovation
Pathway Installation
Bordered walkways
Natural stone or pavers
Painting and Decorating
Carpentry and bespoke timberwork
Rendering
Brick and Block work
Field Mowing & Clearing
Mole Control
Soil Testing
Insect & Disease Control
Debris Removal
Catch Basin & Desilting
Show Gardens and Commercial Installations
Turf Renovation
Aerating
Dethatching
Over-seeding
pH adjustment
Retention Walls & Rockeries
Water Feature Design
Fountains & Waterfalls
Water Gardens
Creeks
French drains
Herringbone drains
Curtain drains
Ground contouring & dry
rock riverbeds
Clearing leaves and debris
Power washing and driveway cleaning
Sweeping kerbs
Weed control
Moss control
De-icing
Weed & disease control
Hydro-seeding
Sod installation
Turf Stone Installation
Mulch Installation
Site Clean Ups
Basin Cleaning
Pressure treated wood stairs

With a team of experienced roofing contractors in Dublin, we have been providing high-quality, fast, and affordable roofing installation and repair services in Dublin. 
Home Improvements Dublin 
  4 Moyne Road Baldoyle Dublin 13