GUTTER CLEANING DUBLIN
We specialize in delivering the best gutter cleaning service in Dublin. Not sure if you need your gutters cleaned? Call us today to take a look at your gutters for free.
NEW CUSTOMER SPECIAL - UP TO 10% OFF
We offer new customers 10% off on all our gutter cleaning services in Dublin. Contact us to claim your discount
For over 20 years, we've been providing professional, fast and reliable roofing installation, repair and replacement. Below are some of our recent testimonials.


Came home after a long weekend away to water coming through the bedroom ceiling. I called Terry first thing the next morning to take a look and he was out within the hour. Two hours later and he had patched up the chimney flashing. All done for a very reasonable price too. One very satisfied customer here. Don't hesitate and call them
Melissa Mcdonagh


Great value, great service!! Fixed my roof on extremely short notice over the weekend. Will have them back to have some other work carried out in the new year.
Joe Fitzgerald


I've been incredibly happy with Home improvements Dublin. They repaired my roof quickly and efficiently. The cost was reasonable but most important they came out and fixed it the same day which was fantastic as it really got that weight off my mind. Highly recommended.
John G.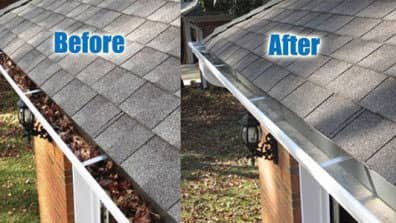 Window and Gutter Cleaning
Reliable Gutter Cleaning Service in Dublin. If your gutters or downspouts are clogged, the water has nowhere to go except over your gutters. This can lead to water finding an easy path into your foundation or inner walls. Cleaning your gutters regularly is essential for proper gutter function and saves you money by preventing costly future repairs. We remove all loose debris from roof areas, all gutters and downspouts are thoroughly cleaned and checked to assure proper flow. Need experienced gutter cleaners in Dublin? Contact us today
You would be very amazed at what can end up in gutters and spouts. It's important you clean your gutters frequently, at least twice a year. By waiting too long, your spout can become clogged, then freeze, splitting the spout at the seam, you could end up with a very expensive repair that could have been prevented. 
Leaving debris left in your gutters for a long period of time can also ruin them.  If you feel safe enough and up to the task to fix stuff up yourself, awesome! If you would rather not, call us now to help fix everything and restore your beautiful gutter, it may even be possible to quote you a price right over the phone. If you're looking for a good, reliable gutter cleaning service in Dublin, Call home improvements Dublin. 
Home Improvements Dublin offers affordable gutter cleaning services that ensure you get the most bang for your buck. We offer some of the most affordable gutter cleaning service rates in Dublin. As you are aware, the weather doesn't necessarily give good warning signs from time to time. Here in Dublin, we face a consistent changing weather which can cause some serious damage to your gutters, leaving debris which clog them up and cause blockage and even further damage.
By allowing these types of materials to build up, there are 2 potential things that could happen to your gutter, one is ruining the beautiful look of your home by allowing your gutters get filled with dirt/debris and overall causing serious damage and ruining the beautiful gutter. The second is damage. An unchecked gutter will eventually get damaged in the long run, which can lead to gutter spill outs, moss in the gutter and even head on to damaging your foundation.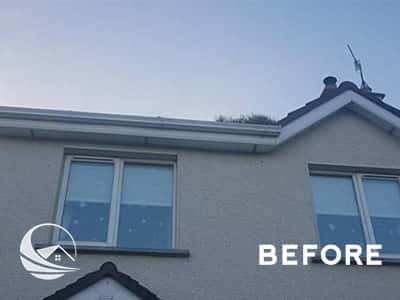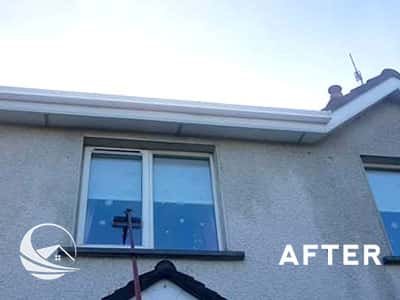 We deal with gutter blockages around-the-clock in Dublin and surrounding areas for all types of gutter systems. Another area that goes unnoticed are the downpipes. You might assume since it's a downpipe, there's no possibility of blockage, that's the actual opposite. Certain kind of debris like small tree branches, or sticks can get stuck, thereby holding dirt and leaves causing a blockage. When you call Home Improvements Dublin to help clean your gutters, we try our best to touch every aspect of your gutter, to ensure its fully cleaned out. Asides gutter cleaning, we also clean, repair, install and replace soffits and fascia.
Our Dublin gutter cleaning service is designed and guarantees you total peace of mind. We provide a good range of gutter and downpipe cleaning and repair services:
Gutter Cleaning Dublin
Cracked or Split Gutters
Post Storm Gutter Cleaning
Leaking Gutter Repairs Dublin
Rotten or Water Damaged Gutter Repairs
Gutter Braket & Connections Replacement
WHY USE OUR GUTTER CLEANING SERVICE?
Experts at Gutter Cleaning
Qualified & Certified
Fully Insured and Licensed
22+ Yrs in the Roofing Industry
Affordable Cleaning Services
Customer Focused
Quick Turnaround times
Free Inspection
Clean and Tidy jobs
Check out our chimney repair services in Dublin, we promise you won't be disappointed!