uPVC FASCIA AND SOFFIT
If you see possible signs of dampness or water damage, contact Home Improvements Dublin, expert roofers in Dublin. We will assess your fascia board and soffit for free and let you know the best option for repair.
NEW CUSTOMER SPECIAL - UP TO 10% OFF
We offer new customers 10% off on all roofing repairs and up to €1000 OFF new roof installations or roof replacements. Contact us to claim your discount
For over 20 years, we've been providing professional, fast and reliable roofing installation, repair and replacement. Below are some of our recent testimonials.


Came home after a long weekend away to water coming through the bedroom ceiling. I called Terry first thing the next morning to take a look and he was out within the hour. Two hours later and he had patched up the chimney flashing. All done for a very reasonable price too. One very satisfied customer here. Don't hesitate and call them
Melissa Mcdonagh


Great value, great service!! Fixed my roof on extremely short notice over the weekend. Will have them back to have some other work carried out in the new year.
Joe Fitzgerald


I've been incredibly happy with Home improvements Dublin. They repaired my roof quickly and efficiently. The cost was reasonable but most important they came out and fixed it the same day which was fantastic as it really got that weight off my mind. Highly recommended.
John G.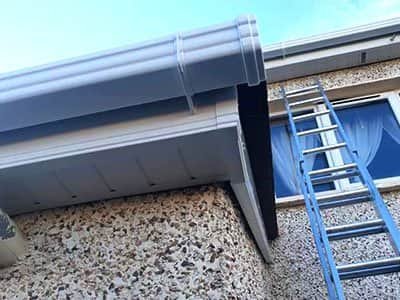 FASCIA AND SOFFIT CLEANING SERVICE
We are experts at repairing all types of soffits and fascia in Dublin and its surrounding areas. We install new soffits and fascia, and we also fix loose or damaged soffits & fascia. Our high-quality uPVC fascia replacements will significantly enhance the aesthetic appeal of your property, creating a much cleaner, smarter finish. We only use the highest quality of materials and by replacing your soffits and fascia with uPVC, you benefit from their easy-clean and low maintenance properties.
 FASCIA AND SOFFIT REPLACEMENT 
We supply and professionally repair/install replacement Soffits, Fascia, Box Ends and Barge boards. Our Services are available to domestic and commercial sectors across Dublin and the surrounding areas. We only use high quality replacement Fascia's & replacement Soffits, our calcium organic, dense uPVC extrusions guarantee a robust, attractive, long-life performance. 
We are committed to value, quality and customer service. The price you are quoted is the price you will pay (no hidden extras). If you want to protect your roofing space and fit fascia's and soffits that will be a lifelong asset to your home, then please contact us.
Dublin Soffits and fascia repairs and construction experts. Soffits and fascia are the boards that help protect your roofing space from the ingress of water. Located along the edge of the eaves of your property, they prevent rainwater, as well as small animals and insects, from getting into your roof.
If your fascia and soffits are damaged or rotting in any way, we provide a professional replacement service and you and your property can benefit from our experience and skills. We tackle Fascia and Soffit repairs around-the-clock in Dublin and its surrounding areas for all types of fascia and soffit repair emergencies.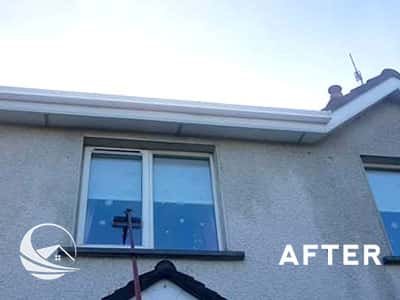 We can help replace or repair all types of soffits and backboards you might have, to ensure a matching finish to your guttering system. We have a range of styles and colours you can choose from. As Dublin cladding experts, you can rest assured you'll be getting only the best. We can help in replacing or installing a new PVC cladding on the exterior of your house. Cladding can be installed on your porch, conservatory or you can have a blend in with your drainage system.
We use only industry-approved materials to repair or install new soffit and fascia systems in Dublin. Our team is equipped with modern tools and certified to carry out a quality soffit and fascia repair service in Dublin. If you would like a free inspection of your soffits & fascia or need a new soffit installed, give us a call and we'll be right there. When we apply Fascia and Soffit to your house, we also make sure that we allow any type of moisture to leave and be properly vented out of that area. We make sure that the area that has the fascia and soffit is being properly ventilated. What we do is apply a ventilation strip multiple times to make sure that fresh air can come in and the damp air can leave without causing any issues to the wooden structure. Our team has carried out hundreds of soffits and fascia repairs throughout Dublin providing value each and every time.
If you need your soffits or fascia replaced by a local, affordable guttering company, contact the professionals at Home Improvements Dublin today! Our team of friendly, well experienced guttering experts will be happy to help you with any questions you may have. Top quality workmanship at unbeatable prices. We also offer spectacular slate roofing services in Dublin.
We provide a multitude of Fascia and Soffit services, some of which include:
New Fascia and Soffits Construction
Fascia and Soffits Installations
Fascia and Soffits Repairs

Cracked or Splitting Fascia and Soffit Repairs
Storm Damaged Fascia and Soffit Repairs
Leaking Fascia and Soffit Repairs
Rotten or Water Damaged Fascia and Soffits Repairs

Fascia and Soffit Bracket & Connections Replacement
Fascia and Soffit Cleaning Services