FLAT ROOF REPAIR DUBLIN
Home Improvements Dublin is the best choice for all types of flat roof repairs in and around Dublin. We thrive on great customer service and quality flat roof repair work.
NEW CUSTOMER SPECIAL - UP TO 10% OFF
We offer new customers 10% off on all roofing repairs and up to €1000 OFF new roof installations or roof replacements. Contact us to claim your discount
For over 20 years, we've been providing professional, fast and reliable roofing installation, repair and replacement. Below are some of our recent testimonials.


Came home after a long weekend away to water coming through the bedroom ceiling. I called Terry first thing the next morning to take a look and he was out within the hour. Two hours later and he had patched up the chimney flashing. All done for a very reasonable price too. One very satisfied customer here. Don't hesitate and call them
Melissa Mcdonagh


Great value, great service!! Fixed my roof on extremely short notice over the weekend. Will have them back to have some other work carried out in the new year.
Joe Fitzgerald


I've been incredibly happy with Home improvements Dublin. They repaired my roof quickly and efficiently. The cost was reasonable but most important they came out and fixed it the same day which was fantastic as it really got that weight off my mind. Highly recommended.
John G.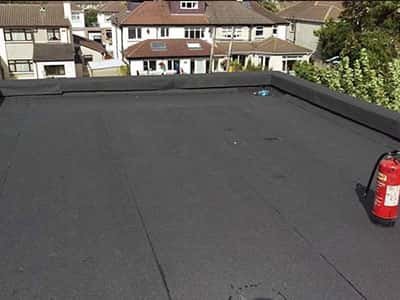 We're flat roof repair experts serving Dublin and surrounding areas. We're the Dublin flat roofing company that gets the job done right the very first time. A flat roof is typically less expensive to install and repair than a pitched roof.
It also is an excellent choice for smaller structures or where space is limited (e.g. an addition, a shed, or an area surrounded by mature trees). A flat roof can also allow for additional living space. Depending on its location, and the ability to handle the additional weight, you can turn a flat roof into a deck and enjoy increased outdoor living space.
We're the perfect Flat Roofing Contractors in Dublin for your roofing project. We provide the highest quality of flat roof installation and repairs. Our distinguished flat roofing service caters for all properties, both small and large. Whatever material is used to make your flat roof, we will provide unparalleled high-quality workmanship to ensure your desired result.
No matter the flat roof service you need to be done, be it a new torch on a felt roof or flat roof repairs and refurbishment, we're more than capable to help resolve any issue. We install a range of flat roofs including Rubber, GRP Liquid & Felt Membranes. All types of flat roofing repairs are handled fast and at affordable prices by our highly trained team of expert roofers in Dublin.
Our expert Dublin flat roofers can help resolve any roofing issues you might have. Serving the North Dublin, South Dublin, and the surrounding areas, Home Improvements Dublin are the experts in flat and emergency roof repair, maintenance and construction, providing a first-class service that combines efficiency, quality, and affordability. We take pride in quality flat roof installation and replacement, and we've taken the time to get properly trained and licensed to ensure you get only the best of the best. You can't go wrong with our free roofing inspections.
Friendly and approachable, we offer skilled and professional services that won't let you down. We have a well-established reputation for reliability and an ability to deliver cost effective solutions to a wide range of flat roof systems. All of our work is guaranteed – no matter how big or small. So, whether you require a quote for commercial or a domestic work, contact us today and we will call you back as soon as possible.
Whatever you do, you should never ever ignore a dripping roof. This can lead to severe damage to the roof's sheetrock, electrical wiring, wood, carpets, and furniture. If the roof is older and the original installer can't assist you, you have several other alternatives. The first is to perform the repair work yourself. We don't suggest this unless you have enough roof experience to safely and successfully handle the repair.
Your 2nd choice is to have professional repair work or replace the roof for you. If the roofing system is nearing the end of its life span, replacement is most likely the more budget-friendly choice. But if it's still relatively brand-new, the repair is the method to go. At Home Improvements Dublin, we are constantly searching for brand-new methods to give our customers the best amount of value in each of our roofing services. Among the methods, we do that is by providing roofing system inspections at no charge.
Throughout our flat roof assessment, we dig deep to find any issues that may be concealed under the surface area. This permits us to make an accurate medical diagnosis and offer you the most precise expense price quote. As we go through our assessment procedure, here are some of the things we are going to be searching for:
Fractures or blisters
Damage from excessive heat
Damage as a result of hail storms
Subtle leakages
Fractures or chips in skylights
Previous repairs made on the residential or commercial property
When it concerns flat roofing system repair work, particularly for business structures, it is necessary to guarantee your roof is carrying out as it should. After all, having a properly working roofing system for your commercial home has to do with more than just protecting yourself. It's about safeguarding the staff members and clients who use the building also.
Flat roof repairs dublin, flat roof repairs dublin, flat roof repair, flat roof repair, flat roof repair, dublin roofing services, dublin roofing services, dublin roofing services, dublin roofing services, flat roofing, flat roofing, roofers dublin, roofers dublin, roofing contractors, roofing experts, roofing experts, dublin flat roof, roof repairs in dublin.