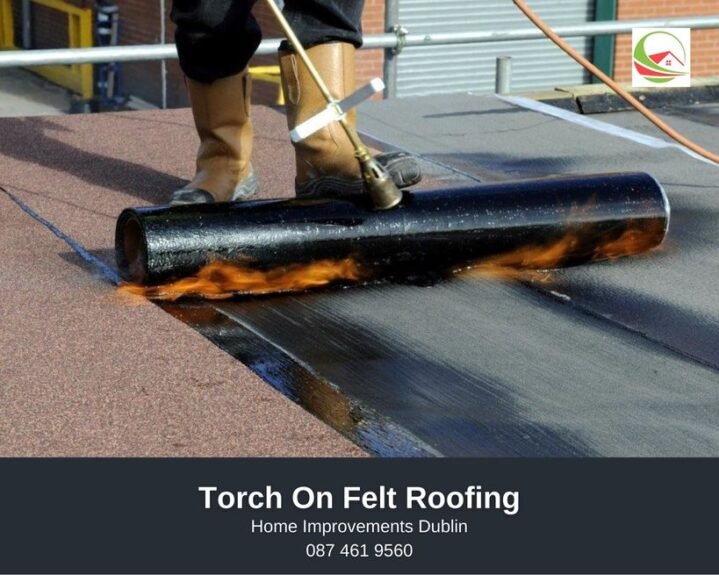 Touch-on felt roofing has been available since the traditional "pour and roll" systems. The newer versions are more flexible and durable. It is easier, safer and more cost-effective than using hot bitumen pots to roll out regular felt.
What is Torch-on Roofing Felt?
Torch-on roofing is a flat roof covering solution that involves three layers of modified bitumen (felt) that are melt-wedded together onto the roof surface using a blowtorch. It is also known as torch-down roofing. The layers are rolled out across the roof and heated with the blowtorch, which melts the lower layer of the felt and practically welds it to the roof.
This process forms a roof that is resistant to ultraviolet light and waterproof with an effective impenetrable seal between the felt and the roof. The layers generally used in the process are a vapor control sheet, reinforced felt, and a cap sheet with a mineral finish.
Torch-on felt is commonly used in combination with fiberglass underlay and plywood which creates reliable, durable, and weather-tight flat roofs. Torch-on roofing felt is one of the most reliable, cost-effective and quickest flat roof installations in the UK.
Types of Torch-on Roofing
Torch-on roofing has two-layer and three-layer systems.
Two-layer torch-on roofing system: This is made up of a smooth base ply and top ply with a granular surface.
Three-layer torch-on felt system: This is made up of an asphaltic board, a smooth base ply, and a top ply with a granular surface.
The three-layer torch-on felt system lasts longer and is quite better than the two-layer system. Two layers of felt may be needed for sheds and garages, whereas three layers of felt are required by building regulations for habitable areas of a home.
Torch-on felt system technology includes SBS (Styrene-Butadiene-Styrene) and APP-modified torch-applied roofing systems. SBS is generally easier to install and requires less heat.
Benefits of Torch-on Roofs
There are several advantages attributed to torch-on roofing. Ranging from waterproof impenetrable seals to durability, below are the benefits of torch-on roofs.
One of the main benefits of torch-on roofs is the quick installation. The installation process is quite simpler than most alternatives. Aside from the point of climbing around a roof with a blow torch, the process is similar to rolling out a carpet. The ability of the torch-on roof to be applied both in dry and wet conditions enhances the quick installation.  When you consider how suddenly the weather can turn, the quick installation time of the torch-on is a plus point compared to popular flat roof solutions. Need flat roof repair or felt roofing services in Dublin? Call us today.
Modern versions of torch-on felt are remarkably strong and resistant to UV rays, heat, strong winds and rain. The felt is hard and strongly bonded to the surface of your roof once installed which makes it resistant to strong winds. Torch-on felt has a 10-years guarantee and can last up to 30 years if well maintained.
Waterproof Impenetrable Seal
Torch-on felt roofing forms a remarkably resilient and water-tight seal with the roof on which it is installed. It makes sure that the felt stays in place through adverse weather conditions such as strong winds. It also makes sure that no water can get through the roof and seals up smaller cracks and imperfections in the roof itself.
One of the many benefits of torch-on felt roofing is its versatile nature. It comes in relatively rolled-up sheets and can be easily cut into different sizes and shapes. It is considerably easier to make torch-on felts on roofs that are a little awkward or with many features. It can be applied to a wide range of roofing surfaces. Torch-on roofing can be applied to curved, sloped, or pitched roofs.
The material used for torch-on felt protects your roof against elements such as tears and leaks. You can expect the best value from torch-on roofing over a long time. It also reduces your roof maintenance requirements
Let's take a look at the disadvantages of torch-on roof felt. Despite offering several benefits, the installation process is not a DIY project as it requires high-level safety measures. The process poses a fire hazard and should be handled only by professionals. You should only allow experienced and qualified installers to do your installation. Contact us to get a free quote now.
How To Apply Torch On Felt
What applications can torch-on felt be used on?
Torch-on felt can be applied to timber and metal decks, flat roofs, concrete, garage coverings, sheds, and flat roof extensions. It can also be applied to residential and commercial buildings. Torch-on felt can be applied to existing roofs, provided those materials are in good condition. It is best to remove the old materials if your current roof is not in a good condition.
Conclusion
Torch-on roofing felt is one of the most popular flat roofing options due to several reasons. It offers a great balance between price and durability. However, given the dangerous nature of the installation process, you must allow professionals to oversee the installation process. Contact our roofing contractors now to get a quote from our experts today.