Roof tiles have been seen installed on both historical and contemporary properties and as it is, it has come to stay. The roofing system has to do with overlapping roof tiles, securely fastened to either a roof deck on a sloped roof or a solid substrate.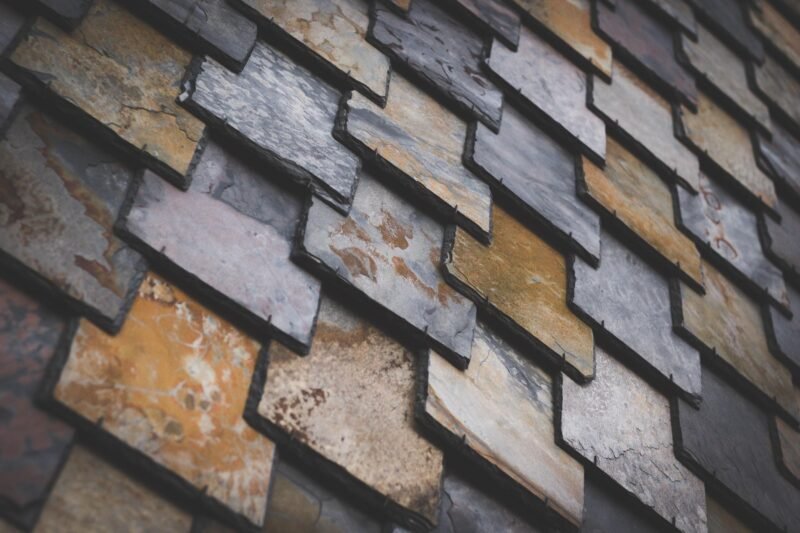 Every property owner looking for the longest life out of their roof has recognized tile roof as a reliable and most beautiful roof option because some can last for a century, even longer when properly installed. Roof tiles are made of different materials, in diverse shapes and are installed on all kinds of buildings, from residential to commercial properties and in extension, on churches, museums, resorts and lots more.
When it comes to roofing in Ireland, nearly any material that is otherwise used for roofing can be used to make tiles. Most of the tiles used were made traditionally out of concrete however, other materials such as wood, fibreglass, metal, clay and asphalt are now usable. Each tile has its unique benefits and setbacks, some can reflect light, some are highly durable while some are heavier than others.
The Different Roof Tiles in Ireland
Tiles are made from a variety of materials and the model in which they are placed over each other has a lot to say about their versatility and the level of the strength of the roof. Ireland markets are flooded with an array of tiles, available in their various shapes, colours, sizes and finishes:
Concrete Roof Tiles
Concrete tiles are quite popular and known to be the most traditional option. They are occasionally referred to as cement tiles, made from a mixture of sand, cement, water, and sometimes a variety of dyes to give desired colours.
To simulate clay tiles, wood shake shingles or slate tiles, concrete tiles are factory-moulded into a wide variety of textures and shapes because of their liquid nature before curing. Although they are quite heavy, this has made them offer excellent resistance to wind and roof hail damage. High winds might shift other roofing materials out of their position, concrete tiles have proven to be more wind resistant than their counterparts.
In terms of upkeep, concrete tiles may require more maintenance than clay tiles still, their cost of maintenance is very low when compared to other tile materials. And if properly installed and cared for, can last up to fifty years. They are very versatile, can be used for almost any buildings and architectural style you could think of.
Due to added weight from concrete tiles, the overall building costs can increase as load-bearing walls and trusses have to be enforced. They tend to insulate pretty well, but they are prone to cracking and don't reflect sunlight unless they are treated to do so. They break more easily than other roofing materials when heavily stepped upon or hit by falling branches and tend to disintegrate with time due to weather.
Clay Roof Tiles
For centuries, clay roof tiles have stuck around as one of the sustainable and original types of roofing materials. They are made by baking moulded clay in high heat, and their density is determined by the temperature at which they are heated and how long they stay in the heat.
Although the traditional clay roof tile's natural colour is either orange or red, today it can be dyed to any colour imaginable as they offer outstanding moldability and colour retention. Clay roof tiles can withstand high wind, hail and fire. They never peel or fade as the high temperature used to bake them allows the colour to bond. Above all, they are highly insulating and of course, a durable roofing option.
It can become brittle as the years go by, resulting in breakage and cracks. Compared to other materials, clay roof tiles are not reflective and are only suitable or rather perfect in cooler climates.
Metal Roof Tiles
Metal roof tiles have gained popularity as it offers another alternative for tile materials and seems to be the right option for buildings that couldn't support the pounds per square weight of other heavier materials. They are made from as such standard 26 gauge steel with an embossed finish readily stamped at the factory. The tiles may come with different coatings, from stone-coated to acrylic coated galvalume finish, giving it the appearance of ceramic tiles.
Metal roof tiles offer a variety of colour and shape options, ranging from light to heavy. Steel tiles, copper tiles and aluminium are the commonly usable metal roof tiles while steel tiles form the bulk of them all. The tiles are energy efficient with better control over internal temperature. Can last up to 45 years and has shown to be a better fit with every architectural style.
The downside is that it becomes dull over time, can be challenging to repair, and is easily affected by environmental conditions resulting in rust. However, metal tiles are reflective, making them common in warmer regions and since they encourage quick melting they are also great choices in snowy climates.
Asphalt Roof Tiles
Asphalt roof tiles are one of the most popular roofing materials in Ireland and as it stands, they are second in popularity to concrete tiles. They are very economical and inexpensive, their versatility makes them a good match for any home. They are highly reflective and may come in a flat and rectangular configuration. They are lightweight and repairing them comes with ease, with no implications of any sort.
Asphalt roof tiles can withstand strong rainstorms, winds and severe shifts in temperature. They can stay intact with minimal signs of ageing if properly maintained. They are environmentally friendly and minimize heat transfer to maintain a comfortable home temperature, making the home pleasantly warm in winter and cool in summer.
Wood Roof Tiles
Woodroof tiles are sometimes misunderstood but can be highly durable when treated. Typically, they are machine-sawn, having their cuts varying from being against the grain or otherwise. Despite the availability of better alternatives, some homeowners still prefer wood shingles to complement their homes or properties with country-style architecture that can give that special natural appeal.
Wood tiles are one of the best insulating materials and as a poor conductor of heat, your home remains warmer in winter and stays cooler throughout the summer months. They can last up to 70 years or more depending on the preservative treatment, species and at large, exposure conditions during usage. They are resistant to wind damage as well.
The high maintenance requirement of wood shingles is its major drawback. It requires the frequent application of certain protective coatings and treatments for protection against algae and rot. Another significant disadvantage is its inability to resist fire, which discourages homeowners in wildfire-prone environments.
Fibreglass Roof Tiles
In recent times, fibreglass roof tiles are made of a fibreglass base mat and then coated with asphalt with ceramic bits placed on the top. They have become more popular with certain types of home architectural designs. They come in different styles and colours and are one of the most inexpensive roof tiles options.
They are lightweight, very durable (can last up to 25-50 years), resistant to weather and more environmentally friendly. Their lightweight feature has rendered them unfit for homes in wind areas as they may not be able to hold up like clay, concrete and wood.
Roof Tiles Prices In Ireland
The price of each material varies in large part to the availability of raw materials needed and the manufacturing process required to make them. Basically, the cheapest material is asphalt tiles, then followed by clay, concrete, wood and metal respectively. Several factors also play a vital role to alter the price and cost of installation.
Concrete tiles prices vary in respect to the profile of the tile, the brand and perhaps, the colour. Almost all brands have a varying range of prices, from higher-grade or more expensive concrete tiles, to moderately priced roof tiles and then their low-priced concrete roof tiles.
Clay roof tiles prices might differ depending on the manufacturer but the more obvious determinants are the size, the profile, colour and occasionally, the popularity of the brand. This applies to other materials too, so to ensure that you are getting the best possible prices of the roof tiles of your choice, contact us for a quote and tell us the exact tile you want and what quantity you would like to order.
Home Improvement Dublin is the one-stop roofer you can trust for satisfactory, timely and efficient roofing services. Our professional roofer will provide you with the best roofing solutions. No job is too big or small for us, residential or commercial regardless. Contact us for any roofing services, whether you want to install completely new roof tiles or you need roof tiles repair, get a free quote from us today! We are just a call from home!