Tile Roof Repair Specialists
Home Improvements Dublin is the best choice for all types of tile roof repairs in and around Dublin. We thrive on great customer service and quality tile roof repair work.
NEW CUSTOMER SPECIAL - UP TO 10% OFF
We offer new customers 10% off on all roofing repairs and up to €1000 OFF new roof installations or roof replacements. Contact us to claim your discount
For over 20 years, we've been providing professional, fast and reliable roofing installation, repair and replacement. Below are some of our recent testimonials.


Came home after a long weekend away to water coming through the bedroom ceiling. I called Terry first thing the next morning to take a look and he was out within the hour. Two hours later and he had patched up the chimney flashing. All done for a very reasonable price too. One very satisfied customer here. Don't hesitate and call them
Melissa Mcdonagh


Great value, great service!! Fixed my roof on extremely short notice over the weekend. Will have them back to have some other work carried out in the new year.
Joe Fitzgerald


I've been incredibly happy with Home improvements Dublin. They repaired my roof quickly and efficiently. The cost was reasonable but most important they came out and fixed it the same day which was fantastic as it really got that weight off my mind. Highly recommended.
John G.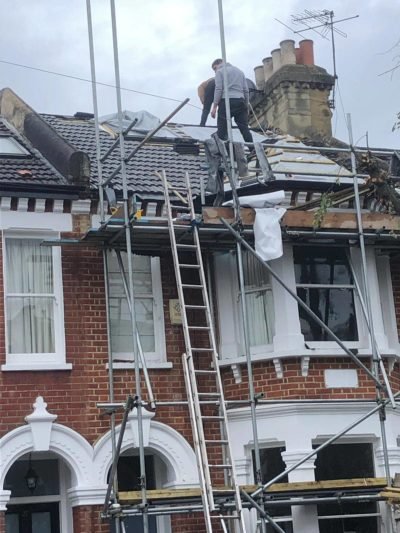 Dublin Tile Roof Repairs Expert. Your roof protects everything you hold dear. It must not leak and if it does you are going to want it fixed right. You already know that a tile roof is different from all other types of roofs.
Loose roof tiles or damaged roof tiles can have a huge impact on your roof. It can lead to slippage, water penetration and damage to underlay and wooden beams underneath. When you call the experts at Home Improvements Dublin, you will have the work not only done in a timely fashion, but done to the highest standards.
  SLATE AND RIDGE TILES REPAIR 
Slate or ridge tile repairs are handled professionally and prompt. We deliver affordable quality services and we match your existing roof tiles to ensure your home retains its beauty.
All our works have unique guarantees and we only use the highest quality material suitable for the needs of your house/commercial building. Our experienced tile roof repair team carry out a full range of tiling work including natural tiles, slate tiles and synthetic tiles. From the replacement of one broken tile or slate tile to the replacement of a new roof.
ROOF Tiles INSTALLATION AND REPLACEMENT 
With the many years we have been replacing and repairing roofs in Dublin, we understand the weak spots in all styles of tile, pitch and flat roofs. Hence, we might be the perfect fit for your next tile roof installation or replacement project. Call us today for a free inspection.
STORM DAMAGED ROOF TILES
Contrary to popular belief, the tiles on your roof are not what actually protects your home from moisture intrusion during rains and wind. Under the tiles is your real protection and this is usually called the "under-layment" or "base sheet".  This is what is laid out to cover the actual wood decking of your roof and then the tiles are installed over top of this.
Along with flashings (metal used around difficult areas like valleys and vent pipes) the base sheet(s) is your real protection. Also called the sub roof. Because of heavy rains and wind, hurricanes and tropical storms, it takes regular inspections and maintenance to keep your home free of moisture damage. It is a good idea to have your roof checked regularly to make sure it is in good condition. We also offer felt roofing services, feel free to check it out.