COPPER ROOFING SERVICES
Home Improvements Dublin is the best choice for all types of copper roof repair, replacements, and installations in and around Dublin. With top-notch customer support and experienced professionals, expect only the best from us.
NEW CUSTOMER SPECIAL - UP TO 10% OFF
We offer new customers 10% off on all roofing repairs and up to €1000 OFF new roof installations or roof replacements. Contact us to claim your discount
For over 20 years, we've been providing professional, fast and reliable roofing installation, repair and replacement. Below are some of our recent testimonials.


Came home after a long weekend away to water coming through the bedroom ceiling. I called Terry first thing the next morning to take a look and he was out within the hour. Two hours later and he had patched up the chimney flashing. All done for a very reasonable price too. One very satisfied customer here. Don't hesitate and call them
Melissa Mcdonagh


Great value, great service!! Fixed my roof on extremely short notice over the weekend. Will have them back to have some other work carried out in the new year.
Joe Fitzgerald


I've been incredibly happy with Home improvements Dublin. They repaired my roof quickly and efficiently. The cost was reasonable but most important they came out and fixed it the same day which was fantastic as it really got that weight off my mind. Highly recommended.
John G.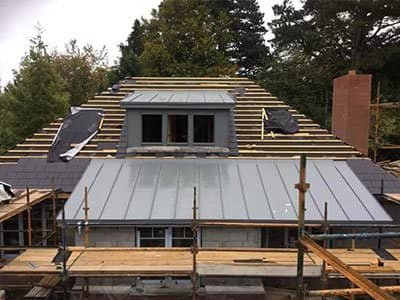 COPPER AND LEAD ROOF REPAIRS
Dublin Copper and Lead Roofing Experts. Home Improvements Dublin are specialist lead & copper roofing contractors who consistently deliver an exceptionally high standard of workmanship throughout Dublin and Louth. We specialise not only in working with traditional lead sheet but also with other materials including zinc, copper and stainless steel.
The same uncompromising quality standards are also given to each of these disciplines. Copper roofs tend to expand and contract frequently during weather changes. When this happens, the fasteners can become loose and require repair. This should not cause concern, but must be managed to ensure the safety of your home.
Curb Appeal – Copper is an attractive metal roofing material. If you aim to increase your home's resale value, a copper roof could be an ideal choice.
Durability – Copper roofs are strong, lasting up to 50 years or even more with regular repairs and maintenance. The metal is highly resistant to fire, hail, and mildew.
Weight – Copper is a lightweight material, which is a clear benefit when installed as your main roofing structure. Lightweight roofs do not put as much stress on your home's internal structures as heavier materials such as steel, clay tiles, or wood shakes. This is especially important during heavy snowfalls.
Efficiency – Most metal roofs are energy efficient, as they reflect light instead of allowing heat into the home. Copper is no exception. Installing a copper roof can help you control heating and cooling costs.
Benefits of Lead Roofing
An extremely flexible material, lead sheeting can be pulled taut and stretched around tricky shapes and areas for total coverage. Lead expands and contracts depending on the temperature.
A good quality, lead roof can last as much as three times longer than other roofing materials. As an extremely strong and resilient metal, lead is resistant to any type of corrosion.
Lead has one of the highest recycling rates in the world, and is one of the most recycled metals.
Copper Valley Flashing
Home Improvements Dublin also specialize in the copper valley flashings, chimney flashings and many other copper flashings to restore tile and slate roofs. We are specialists in the replacement of worn-out flashing, and underlay in restoring older roofs to their original integrity. This work is usually needed on slate and tile roofs over 50 years old. Our skilled roofing experts fabricate and install copper flashings to match original architectural designs for historic roof restorations. We use only the best materials to get the roof completed and ensure you're satisfied.
Zinc is a high-quality, sustainable metal that has been used in roofing for more than 150 years. Since zinc roofs are extremely durable and versatile, it's no surprise that zinc roofing costs are more than standard asphalt and other roofing materials. Luckily, you can reduce your zinc roofing prices.
Benefits of Zinc Roofing
A zinc roof is extremely corrosion-resistant, but also offers further advantages over other metal roofs.
Zinc roofing is self-healing, meaning that if is scratched the zinc roofing material it can recover given time.
It has a low maintenance care regime. Even in a harsh site, exposed to spray and wind, you can install it and basically forget about it.
Zinc offers a more aesthetic appeal than some of the other metals you could use.
On top of this, architects like it because it can be formed into interesting shapes and curves whilst retaining it durable qualities. As such, it is ideal for forming flashing around chimneys and dormer windows, as well as the main body of the roof.
We provide every form of local roof sheeting:
Copper Roof Sheeting
Lead Valleys
Lead Dormers
Copper Chimney Finishing
Zinc Roofing
Feel free to also review our commercial roofing service.