Roof Repairs Dublin 11
It is never easy getting the right roofing company in Finglas, that would do the right job in the right way with the right tools and service crew, the first time. We are the roofers that get the job done right the very first time.
SAVE UP TO €500 ON COMPLETE ROOF REPLACEMENT
Need roof repairs or replacement services? Contact us today to save up to €500 on your next roofing project. Fill out the form or call us at 08 746 19560 to request a quote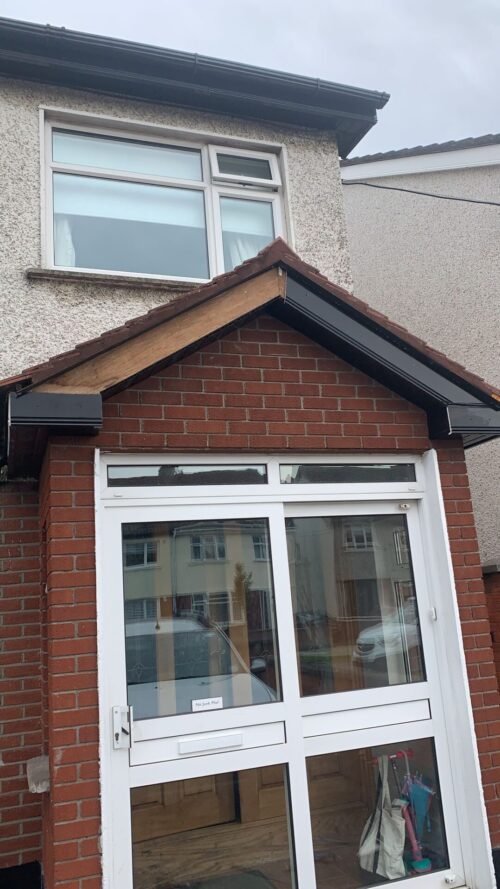 Why Choose Us As Your Roofing Company?
Roofs, more often than naught having gutters and chimneys emplaced with them tend to get ruined or are at the risk of getting faults either when the chimney or the gutter develops a fault. With this fact properly established, a good roofing service might just be the right solution. Home Improvement Dublin offers roofing services that help stop issues like this from ruining the roof of your home. We provide expert services at affordable prices. Asides gutter and chimney repairs and installation, we also do roof repairs, replacement and installation.
It is no debate that the beauty and protection of the home largely lies in the roof and gutters as well as chimney. Ensuring that these entities are always in good condition is of utmost importance. Home Improvement Dublin is a roof repair company that helps to sustain this culture by providing those living within the Dublin 11 areas with expert roofing services.
A gutter is of great use especially during the rainy season and this is why maintaining it is of great importance. A good gutter adds to the beauty of your home in a lot of ways and also helps protect the roof from pending issues when it starts developing faults – it protects and beautifies your roof. How often do you have your gutters cleaned? Home Improvement Dublin offers great cleaning and clearing service for your clogged gutters. If the roof of your home is close by trees, it would be at risk of blockage from branches, foreign objects, twigs and leaves.
The use of this gutter is for water to flow down. A broken and bent gutter can also cause things to gather and therefore requires attention to avoid unnecessary future issues. To address this gutter issues, get across to the right roofing service with the right tools and service crew for the job. When in need of gutter replacement, seeing that some gutter conditions call for replacements, we also do installation and replacement at affordable prices.
Our second to none services at Home Improvements Dublin 15 area include:
When mortar joints in chimneys are damaged, the bricks suffer being exposed to moisture that goes into small cracks and this leads to bigger cracks in the bricks and this can also lead to rust of the damper. This can seem to be an issue that is getting out of hand but not something a good roofing service cannot handle with ease. Home Improvement Dublin does great chimney repair, installation and cleaning.
Providing the best of services we ensure to do the jobs perfectly and safely, avoiding hazards that can be a major issue later when not handled properly. It is advisable to get across to a roofing service rather than handle such problems with little or no knowledge of chimney repairs and installation. Calling a good roofing service like Home Improvement Dublin ensures your safety and gives a perfect after effect to the work done.  
There is always everything lovely about a new roof, it is a chance to beautify and modernize your home. To maintain a roof might not be as cheap as it may look but replacing costs way much and this tends to occur when it comes down to roof replacement. Home Improvement Dublin offers services at pocket friendly prices.
The services offered are top notch and reliable; without many words, our great customer reviews are good enough to speak for our services. We offer good customer relation through our awesome customer service and relatable service crew. Ensuring that the job is cost effective, health conscious and conducive while preserving the beauty of your home, we reduce the stress that would come from searching for the right roofing service or you having to keep patching your roof till it completely pulls down.
At the slight notice of a leakage or hole, it is just at this moment you begin to treat such as an emergency to avoid spending much more later and even as much as replacing the whole roof. Reaching out to Home Improvement Dublin on time will be the first best move you make – choosing us as the right contractor for your work gets you the satisfactory work you expected.
Home Improvement Dublin has just the right amount of work ethics required for the job as well as the right men for the job. Home Improvements Dublin located in the Dublin 11 areas, with work experience of over 23 years and service crew of highly trained roofing personnel,  the right tools which makes us just the right next for your roofing concerns without exclusion to gutter and chimney repairs seeing as they are major parts to your roof.
NEW CUSTOMER SPECIAL - UP TO 10% OFF
We offer new customers 10% off on all roofing repairs and up to €1000 OFF new roof installations or roof replacements. Contact us to claim your discount